Company
andres GmbH is located in Niederkassel-Rheidt. Our company is thereby situated in the middle of the strong and easily-accessible economic region of Köln/Bonn.
Since its foundation in 1979 by Irene and Klaus Andres, our company has, through innovative ideas and excellent quality, developed into the one of the leading display manufacturers on the German-speaking market.
Managing partner Irene Andres currently leads a team of 90 employees. Including production and warehouses, our business spans over a total area of over 8,000 square meters.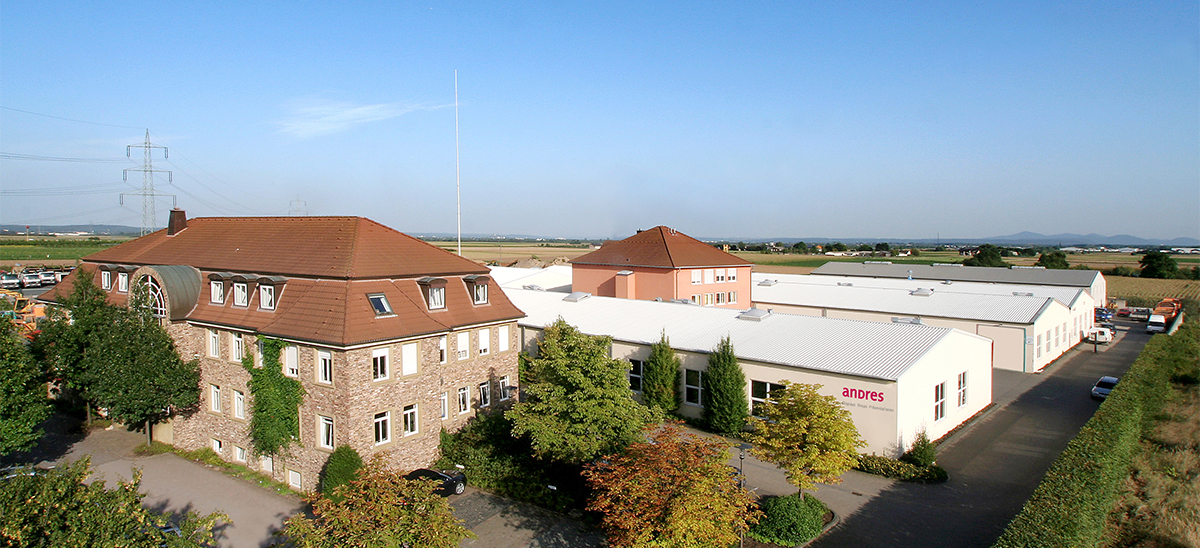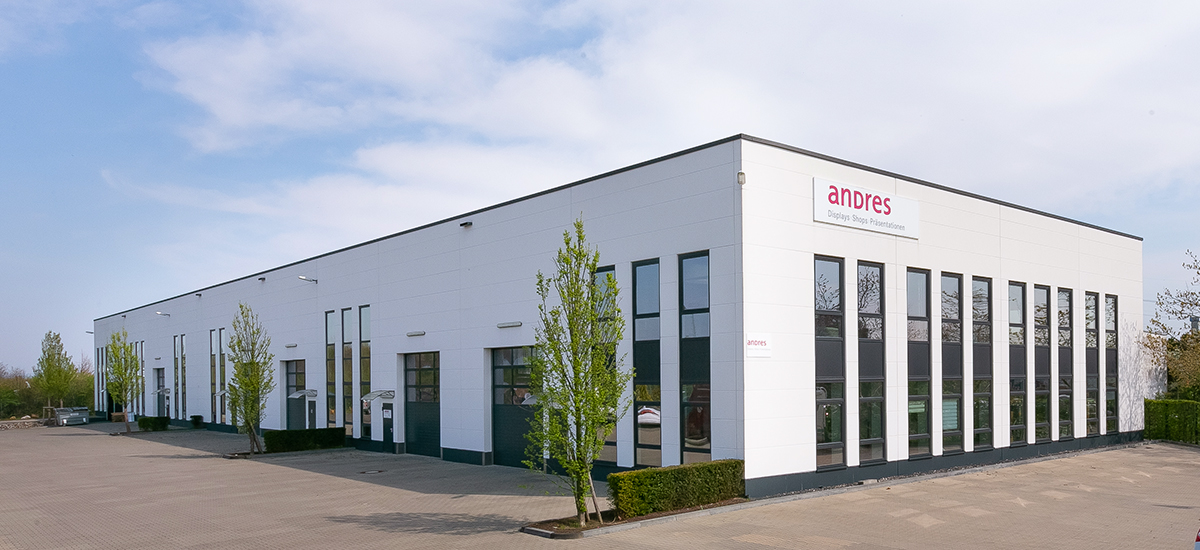 History & highlights
January 2020
PE bags are a thing of the past. From now on, the sensitive displays will only be packed in biodegradable and compostable bags made of bio-plastic.
2019
andres GmbH celebrates its 40th anniversary this year.
November 2018
After resignation of Frank Liebrand, company founder Irene Andres takes over sole leadership of the company, supported by Sales Manager Jens Heilinger.
March 2016
After nearly 37 years, Klaus Andres retired as managing partner and handed over his area of management to Frank Liebrand.
August 2015
andres celebrates the opening of the 2,500 square meter manufacturing and logistics warehouse with a large summer party for all employees and their families in the Niederkassel industrial area.
June 2015
Co-development and production of the ShowTec-Display system by Hansgrohe during a comprehensive relaunch of the international sanitary wholesaler and retailer's product presentation.
February 2014
Creation of eight job-integrated workplaces (BiAPs) in cooperation with Rhein Sieg workshops.
January 2009
New name, new corporate identity: In the year of its 30th anniversary, andres kunststoff-system GmbH became andres GmbH.
2007 - 2008
Branch fittings for Postbank. Piloting and fitting new Postbank branches at various locations nationwide. As main contractor, andres took charge of empty branch rooms and fitted them to match the new Postbank designs.
2007
Self-service module in branches of Deutsche Post for T-Com and T-Mobile products (presentation of mobiles and landline devices). In one week, andres equipped nearly 1,000 Post offices nationwide with the new telecommunications module.
2006
World cup spirit in Postbank's branches: Fitting lawn-like surfaces with corner flags and a goalpost; deep-drawn brochure holders using the mould of the yellow Postbank ball.
June 2006
Start of our cooperation with Rhein Sieg Workshops in Troisdorf.
1997 – 1999
Fitting 7,500 post offices with metal mesh catalogue stands (equipped with several hundred thousand acrylic glass elements) in just 12 weeks.
May 1992
The company moves to Markstraße 106 in Niederkassel-Rheidt.
1 October 1979
Irene and Klaus Andres establish andres kunststoff-system GmbH in Troisdorf. Initially active in the trade and creation of technical plastic semi-products for industry and as a supplier to the advertising industry, the company first produced display presentations and brochure stands for the companies Vaillant and Renault at the beginning of the 1980s.